Saturday, Sunday, February 24, 25, 11am-5pm
Colonia San Antonio
Free
My Studio / Mi Estudio - art walk
(formerly San Antonio Open Studios)
by John Berryhill
Calling all culture vultures, art aficionados, the curious, the mystic and the mad. Clear your calendars for February 24 and 25, 2018 (hours 11-5). It's that time of year again when Colonia San Antonio is transformed from a quaint and quiet neighbourhood into the hottest art event of the season. MyStudio-MiEstudio (the new incarnation of the former San Antonio Open Studio), complete with sparkling new signage, will be partnering through our Outreach Program with nine of the most promising young artists from the Instituto Allende art school. Included are Mariana Vallejo, Ana Karen Gomez, Maria Paula Gaeza, Francisco Pedroza, Regina Paniagua, Carlos Arl, and Graciel Perez. They will be joined by recent graduate Brenda G. Espinos and her professor Alejandro Mejia. All nine are la crème de la crème and richly deserve this recognition.

Over this weekend, 35 gifted members of San Antonio's art community will be opening their studio doors and sharing their impressive work; further, ten of the artists will be donating some of their exhibition space to the aforementioned students.

For the first time ever, a spectacular series of eight 13 foot high murals will be on display at the corner of San Elias and Privado de San Pablo (studio of Peter A. Davis, Organizer of MyStudio-MiEstudio and creator of the Outreach Program). Banner art by Bobbi Van, Christina del Valle MacLeod, Carlos Arl, Graciel Perez, Don Catrin (Francisco Nadie Vega) and Laura Reyes.

To hobnob with the artists and receive a touring map, attend the gala preview exhibition at the Hotel Real de Minas, Thursday February 22, 5 – 8 pm. Dress like you mean it. On the weekend, February 24 & 25, visit 35 studios in Colonia San Antonio to get a taste of what's really happening!
Set an alarm on your iPhone for these two events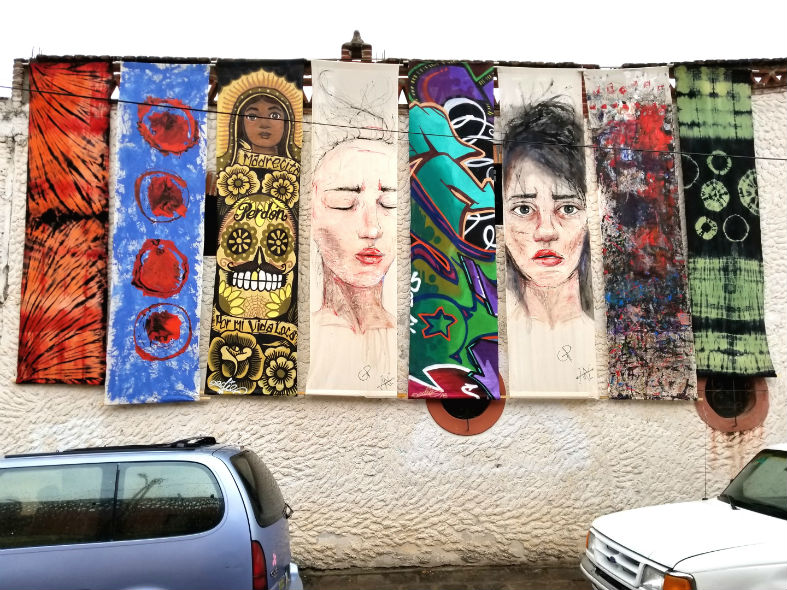 George M Aronson photo credit